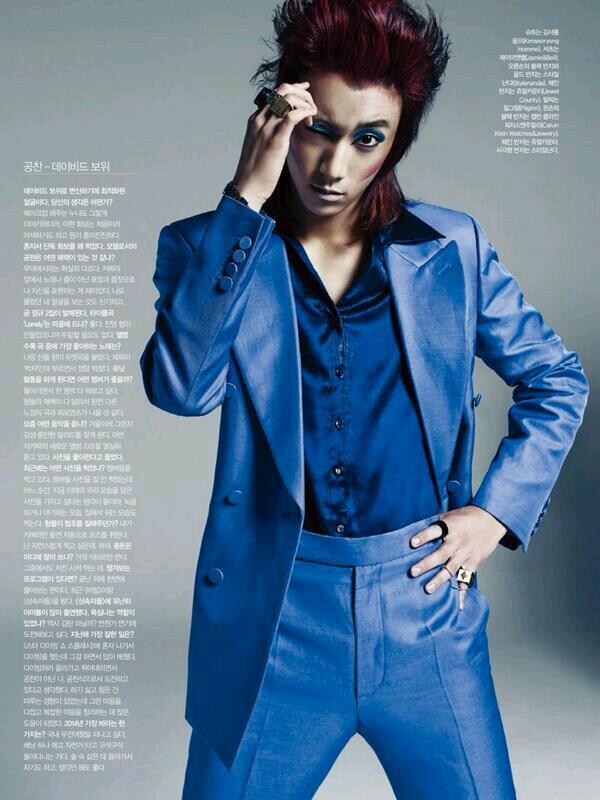 Q: You transformed into David Bowie. How was it?
Gongchan: Noona who did my make up asked me that too. It was awkward yet interesting because it was my first time doing this kind of photoshoot.
Q: What is Gongchan's charm as a model?
Gongchan: It is certainly different from being on stage. I expressed myself with my face and mimics instead of dance and song. I was amazed to see my face which I had not known.
Q: Your second album "WHO AM I" was released. Did you like the title song "Lonely"?
Gongchan: I liked it. There is no need for words because Jinyoung hyung made it. My favorite song from the album? There is a duet by me and Sandeul hyung which is called "Too Much".
Q: Which member do you want to form a sub-unit with?
Gongchan: I want to do it with all of my members since all the members have different charms.
Q: What music do you listen these days?
Gongchan: I guess it is because of winter that I want to listen to ballad filled with emotions. I listen to Urban Zakapa's new album "3" nowadays.
Q: I heard that you love taking photos. What was your latest photo taken by you?
Gongchan: I took photos of members. I think that I need to remain our images at any moment. The images while studio recording, while resting at home.
Q: Did members help you while photoshoot?
Gongchan: I wanted to look natural but whenever I heard the cameraman, I posed without me knowing.
Q: How do you spend your allowance?
Gongchan: I spend my money on food. Especially for chicken.
Q: What program are you interested in?
Gongchan: I watched "Secret" and "The Heirs".
Q: What is your wish for 2014?
Gongchan: I want to ravel our country with no money. Only with a backpack, riding bicycle. It makes me happy just to think about it.  
source: Allure Korea Magazine
eng trans cr: kamile @ officialb1a4.wordpress.com
please take out with full credits and the translator!