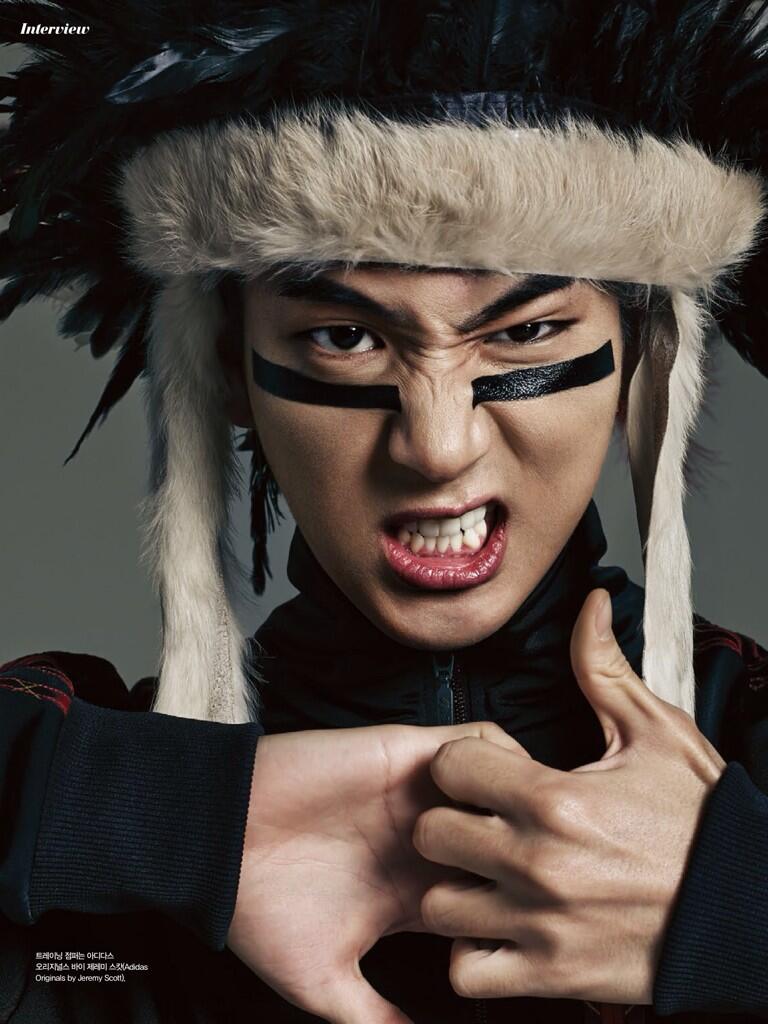 Q: How was today's shooting?
Baro: It was over so quickly that I'm sad about that.
Q: Do you like Jamiroquai?
Baro: Of course. This concept matched with me since I like dynamic things rather than acting though. I also liked that Indian hat and the drawing on my face.
Q: You came here without any sleep, where do you get your energy from?
Baro: To be honest, I feel so tired but since they play exciting music and there are lots of people here, I'm in a good mood right now.
Q: Reply 1994 is an unforgettable experience in many ways for me.
Baro: I think that I'm lucky. It was a great opportunity for me. I'm really thankful that drama found success
Q: In fact, Binggeurae was a character that opposite of your personality. It seems difficult to play such a role. How was it?
Baro: It was hard at first. I kept having mental breakdowns. Around the middle of the drama, I was abble to addapt to Binggeurae's character and had a lot of fun. It was also fun to watch the broadcast. It's a pity that drama ended.
Q: Did the members watch the drama?
Baro: When I aask them "How was it?", their answer would like  "I give you two stars". They didn't show their interest in my acting. They just wondered who exactly is Najung's husband.
Q: How did your parents react?
Baro: My mother fell in love with Trash hyung (Jungwoo). I even got his sign for my mother.
Q: Drama shooting schedule did overlap with your album preparations. You must be more nervous?
Baro: As soon as the shooting was finished, I was going to the studio right away. It was exhausting. After drama end, I've been taking care of my health well.
Q: One of your dreams come true at such a young age. What's your thought about it?
Baro: I don't think that I've reached my dreams yet. There is still a long way to go. I must take advantage of opportunities as they comes to me.
Q: Do you have wish for 2014?
Baro: I want to go to Brazil to watch World Cup. Korea's first match will be played on June 18th. I will be happy If I can see the match with my own eyes.
source: Allure Korea Magazine
eng trans cr: kamile @ officialb1a4.wordpress.com
please take out with full credits and the translator!